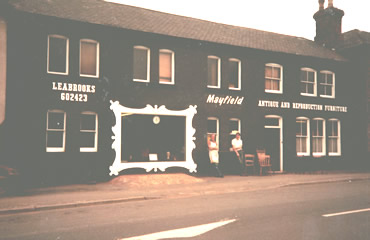 Our story starts back in the 1960's with our first store, previously home to Mayfield Leather Tanners, commonly known as 'The Leather Works'. The name was retained and Mayfield Antiques was born. Originally only opening on Sundays! During our 'closed' days we delivered orders and sourced new stock through various auctions.

As styles and demand changed we started to introduce reproduction furniture including Mahogany, Yew and Elm. We became Mayfield Reproduction Furniture. Sourcing and buying directly from UK cabinet makers and having items polished to a high standard. Fast forward 30 years to the 1990's and styles were changing yet again, with Pine initially influencing the market and then finally oak. We also moved to a larger store which is where we are today. During this period of pine and oak influence we still displayed reproduction furniture and did so for many years until finally many craftsmen retired, factories closed and it became harder to obtain furniture to the quality we were known for.

Towards 2004 we made a decision to focus on the upcoming furniture market, which was significantly Oak inspired and with little or no reproduction furniture left in store, the word 'Reproduction' was dropped from the company name. This reflected the direction we were heading as a company and gave us a cleaner, more modern feel. From day one we've always looked to source quality products with our motto being 'If we wouldn't have it ourselves, we don't expect our customers to'. Mayfield Furniture is a family run business and now into it's third generation of ownership. With no shareholders to impress, our values are still the same; to do the best we can for our customers by supplying them with good quality products and great service.
Ever since day one we've had a store, somewhere customers can visit, see and touch the furniture they wish to buy. There's no better way to shop than to visit a store and see the collection yourself. Buying soley online or directly from a catalogue can't give you that satisfaction you've made the right decision.
Our luxury showroom in Somercotes, Derbyshire displays the collections beautifully, Each divided into room settings to help you visulise the furniture in your home. We have a
Google virtual showroom tour
allowing you to browse from home. Our displays are constantly changing but this give you a good idea who we are and what to expect when you visit.
We're a traditional company at heart:- showroom first, internet second. That's the way it's always going to be!
Click here for more information including store opening hours and driving directions.
Home delivery is very important and is often something taken for granted. We've been delivering furniture ourselves for over 50 years. It's bulky, heavy and sometimes needs assembling.
We pride ourselves on the extra details we undertake to ensure your furniture arrives as expected. We unpack
everything
prior to arranging a delivery date, We quality check each item for transit damage and missing parts. This extra process ensures no surprises (and disappointment) on the delivery day.
Also we don't just deliver to your door step like many others. We deliver to your room of choice, regardless if it's ground floor, second floor, third floor or higher!
We complete all needed assembly on-site and because everything is pre-checked, there is no waste packaging left for you to dispose of. We recycle as much packaging locally as possible.
Click here for more information about our Home Delivery Service.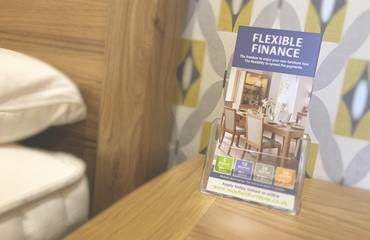 We offer a range of finance options to help customers spread the cost of their new furniture into smaller monthly payments.
Available on orders over £1500 either through our secure online checkout or by visiting us instore.
There a currently 4 different repayment durations:
- Interest free over 6 or 10 months
- Low rate interest bearing over 24 or 36 months
Simply pay a 20% deposit with your initial order and spread the remaining balance over 6 to 36 months*.
*finance not available on clearance items
Click here for more information on paying by finance.
When your new furniture arrives sometimes the furniture being replaced needs to go somewhere! We're happy to collect your old furniture on a like-for-like basis. Where possible we'll donate the old furniture to the various charities local to our store, helping them to continue their great work.
We've also teamed up with a bed and mattress recycling company to avoid old mattresses going into landfill unnecessary, Instead these are stripped down back to raw components and recycled into various usable forms.
Whether it's your old table and chairs or past its' best mattress, We'll take the hastle away so you can enjoy your new purchase straight away.